Beauty Editors Love ALASTIN Skincare®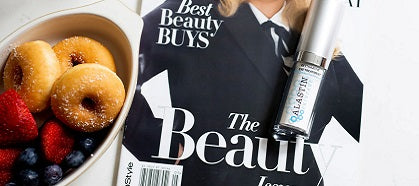 Skincare Experts Review ALASTIN Skincare
Whether it's your favorite beauty blogger or the top beauty editors at magazines like InStyle, Nylon and Harper's Bazaar - everyone is raving about ALASTIN Skincare®!
Check out this highlight reel video featuring our recent awards and media coverage to see why ALASTIN Skincare® is quickly becoming the preferred skincare for experts, beauty editors, bloggers, and men and women everywhere!
We'd like to say that we're surprised, but we're not. Our TriHex Technology® used in most of our skincare uses a proprietary blend of active peptides and botanicals specifically engineered to work with the skin to clear out old collagen and elastin proteins that have been damaged by sun exposure and aging while supporting the skin's natural ability to produce new collagen and elastin1.
And our customers can see the results in their skin! See how real customers review ALASTIN Skincare® products:
"I used to wear another brand religiously but after I was introduced to HydraTint Pro Mineral Broad Spectrum Sunscreen SPF 36 I haven't gone back. I get compliments all the time on my complexion. The antioxidants alone have helped my skin's health but the beautiful natural glow that I can layer on.. it is amazing I tell most people about it and they can't believe how well it blends with their skin tones as well. If you are looking for a natural glow that has amazing coverage like a bb or cc cream this is your new best friend." - Morgan
"I've tried countless eye creams, and this is by far the best yet! I can already see a difference with my fine lines and bags after just a short 2 weeks. Do yourself a favor and order!" - Tiffany
"I have had laser resurfacing treatments twice but only had ALASTIN Skincare® for the second one. I started with the skin nectar about a week and a half before my treatment and I was way less red and irritated immediately after my procedure. In the next few days, my face was less red, less itchy, and healed faster than my previous treatment. Continuing the products even after healing has made the biggest difference in my skin texture and glow. I would highly recommend the ALASTIN Skincare® line to anyone and especially post-procedure patients." - Kelley
SHOP POST-PROCEDURE SKINCARE >
Beauty Awards & Features from the Experts You Trust
Next time you're flipping through your favorite magazine, don't be surprised to see beauty editors recommending ALASTIN Skincare® too. We're particularly honored to have received some very noteworthy awards in recent months.
Harper's Bazaar May 2019 issue features our TransFORM Body Treatment with TriHex Technology® in the "The Best New Body Procedures" article.
"Historically, fat-burning creams have turned out to be nothing more than hope in a jar. But ALASTIN Skincare®'s TransFORM Body Treatment with TriHex Technology® ($195) promises something different. This over-the-counter formula accelerates the results of radio-frequency and fat-freezing, body-sculpting procedures by metabolizing fat more quickly...."
Keeping body top of mind our TransFORM Body Treatment with TriHex Technology® also received the "Innovation Award" from NewBeauty explaining that "ask any derm or plastic surgeon for one of their favorite new medical-grade brand recommendations, and ALASTIN Skincare® will consistently pop up. Its TransFORM Body Treatment with TriHex Technology® is specifically formulated to enhance the results of skin-tightening and fat-melting procedures by activating cells within the hair follicles, which then signal other cells to process the fat faster...."
And it doesn't stop there. InStyle Magazine named our Restorative Eye Treatment with TriHex Technology® the "Best Eye Cream Out There"! Read the full InStyle article for more details.
Needless to say, we are both humbled and honored by all of the great press and media we've received so far in 2019!
Check out all of our recent press and awards on our ALASTIN in the Media page and follow ALASTIN on Instagram to be the first to hear about news and media for ALASTIN Skincare®!
1. Widgerow AD, Fabi SG, Palestine RF, et al. Extracellular matrix modulation: optimizing skin care and rejuvenation procedures. J Drugs Dermatol. 2016;15(4)(suppl):s63-s71.