Loss of Skin Firmness & Plumpness
---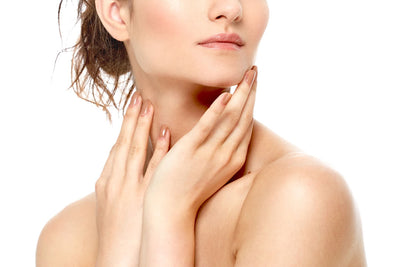 Skin Firmness
If you are experiencing a loss of skin firmness and have wrinkled, saggy skin, here are ways to improve skin elasticity and achieve more firm, beautiful skin!
The Importance of Elastin and Collagen
Elastin and collagen are vital structural proteins in the dermis, the middle layer of the skin. These proteins are abundant in the skin at an early age but begin diminishing almost immediately from birth, and by middle age, elastin replenishment is minimal.5,6,7,8 In addition, as your skin ages, the fat pads in your face shift and diminish facial volume. Moreover, your neck skin can lose its ability to stretch and stay tight, leading to the appearance of crepey skin. The loss of skin elasticity in one's face, neck, and jawline makes your skin look less plump and frim, contributing to a 'drawn' appearance of sagging and loose skin. Improving collagen production by using the right skincare products, undergoing cosmetic treatments, or eating certain antioxidant foods such as berries and dark chocolate may help.
What Are Some Non-Surgical Skin Tightening Treatments?
Limiting sun exposure will help prevent sun damage from affecting skin cells which could lead to loose sagging skin and fine lines. Using skincare products that include ingredients such as retinol can improve skin tone and texture. Sunscreen can also help to prevent visible signs of dry textured skin. 
Formulated with TriHex Technology, ALASTIN's skincare products are clinically proven to improve skin health and protect the skin from future damage. Our professional skincare products contain ingredients that improve the appearance of skin quality and texture by help to rebuild healthy elastin and collagen production. 
Consider looking into a firming cream or serum to achieve a smoother skin texture for younger-looking, beautiful skin. If you are concerned with skin laxity and stretch marks, try incorporating facial exercises into your daily routine, which can help improve your skin's firmness.
Talk to your doctor if you have concerns about the loss of firmness and aging skin or questions about potential treatment options. These options could include skin rejuvenation procedures such as injectables, topical skin care, laser treatments, radiofrequency, a chemical peel, an Ultrasound or RF Microneedling treatments.
Sources:
Reviewed by Wendy Johnson, Vice President, Strategic Partnerships & Professional Relations 
Wendy Johnson brings to Alastin Skincare over 22 years of pharmaceutical, biotechnology, and aesthetics industry experience in various sales, training, marketing, and thought leadership development roles.
Complementary Products




---
Join the A-List
Stay in the glow with the latest beauty and skincare trends, products, and procedures.