Aging Skin
---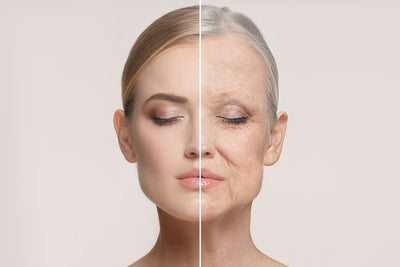 What is Aging Skin?
As we age, our skin naturally changes. Some of these changes might include dark spots, age spots, dry skin, fine lines, or wrinkles. Your skin might also become thinner and less firm. Your lifestyle, skin type, and genetics play a factor in the aging process, but there are ways to prevent premature skin aging.
Characteristics of aging skin:
Thinning of the epidermis layer and reduction in the rate of cell regeneration

Flattening of the dermo-epidermal junction

Altered dermal collagen and elastin, leading to loss of skin elasticity

Increased size of sebaceous glands and pores but decreased functionality resulting in decreased natural skin moisture

Hollowing and wrinkling of facial areas caused by diminished elasticity and slow loss or displacement of underlying fatty tissue
How Does Skin Age Over Time?
One major cause of aged skin is sun exposure. To help protect yourself from sun damage and UV radiation, use a sunscreen with an SPF 30 or higher, wear protective clothing, and stay away from the sun when it is strongest (usually in the middle of the day). Also, smoking and tanning beds can damage skin cells, leading to skin cancer or prematurely aged and wrinkled skin.
Other causes of visible signs of premature skin aging can include your lifestyle, diet, pollution, facial expressions, sleep position, and stress. Being aware of your skin type and different skin concerns can help you know how to take care of your skin best. Some people may age quicker than others and produce more wrinkles on their face, under their eyes, or on their necks.
How to Care for Aging Skin
Incorporating anti-aging products into your daily skincare routine will help lead to healthy skin. ALASTIN has developed clinically proven anti-aging skincare products that supports the production of healthy new elastin and collagen, which helps give the appearance of younger-looking skin.
Talk to your doctor or dermatologist if you have concerns about aged skin or questions about potential treatment options. These options could include a chemical peel, injectables, laser treatments, radiofrequency treatments, microneedling, ultrasound treatments, topical skin care, or surgery.
Sources:
https://www.webmd.com/beauty/cosmetic-procedures-aging-skin#1

https://www.nia.nih.gov/health/skin-care-and-aging
Reviewed by Wendy Johnson, Vice President, Strategic Partnerships & Professional Relations
Wendy Johnson brings to Alastin Skincare over 22 years of pharmaceutical, biotechnology, and aesthetics industry experience in various sales, training, marketing, and thought leadership development roles.
Complementary Products








Gentle Cleanser

$49.00
Gentle gel cleanser that cleans without drying the skin.
---
Join the A-List
Stay in the glow with the latest beauty and skincare trends, products, and procedures.