Here's How To Prep Your Skin For An In-Office Skin Treatment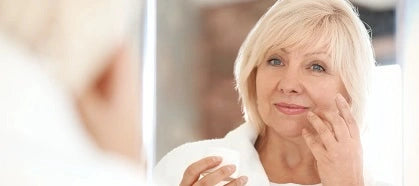 Achieve Your Best Skin With These Tips For Your Next Skin Rejuvenation Procedure
When you prepare to plant a new flower garden, you first want to prepare the soil. This often includes fertilizing the soil, removing rocks, pulling weeds, and the like.
Similarly, you should prepare your skin so that it is as healthy as possible and can respond efficiently to any skin rejuvenating procedure like microneedling, laser resurfacing procedures, or injections.
Sure, you could skip this step, but if you're going to take the time and money to invest in your skin procedure, you should take the extra step to ensure that you get the most out of your investment!
What You Can Do Before Your Skin Treatment To Get The Best Results
Consult your doctor. While we can offer some general guidelines, your health care provider is going to create a customized plan specific to your skin's current condition as well as your desired outcome.
If you don't already have a health care provider in your area that you can trust to give you this kind of advice, use our search tool to find a health care provider in your area.
That said, generally speaking, you want to ensure that your skin is as healthy as possible BEFORE you walk in for your procedure. Think of it as Marie Kondo-ing your face.
If you decided you wanted an upgrade the decor in your house, you would first purge the clutter and remove any items that will not match the new decor. When it comes to your face, this means removing damaged elastin and collagen. 
Thankfully, the patented technology used in most ALASTIN professional skincare products, known as TriHex Technology®, does just that. It is a patented blend of active peptides and key ingredients, which work with the skin to clear out damaged elastin and collagen proteins and support the skin's natural ability to produce new elastin and collagen.
Essentially, it's out with the bad, and in with the new!
Through a process to remove, rebuild, and replenish your skin cells, products with TriHex Technology® can help to provide the best possible surface for facial rejuvenation procedures.
Learn more about TriHex Technology® > 
Skincare Products To Help Prep Your Skin Before Skin Rejuvenation Treatments
Image courtesy of Dr. Grace Lee Peng, M.D., F.A.C.S. from Nassif MD Medical Spa.
Regenerating Skin Nectar with TriHex Technology® preconditions skin to enhance procedure outcomes, to support the creation and maintenance of elastin and collagen, and to help reduce downtime.
And the results speak for themselves!
Here are some impressive before and after images of a patient who used the Procedure Enhancement System including Regenerating Skin Nectar with TriHex Technology® as compared to a comparator regimen.
Subject photos courtesy of Sabrina Fabi, MD.
ALASTIN Skincare Regimen: Gentle Cleanser, Regenerating Skin Nectar, Ultra Nourishing Moisturizer, Soothe+Protect Recovery Balm and Broad Spectrum SPF 30+ used twice daily (except sunscreen used morning only). Subjects used the PES kit for 3 weeks prior to the procedure and 12 weeks following the procedure.
Reference: Widgerow, A.D., Fabi, S.G., Palestine, R.F., et al. Extracellular matrix modulation: optimizing skin care and rejuvenation procedures. J Drugs Dermatol. 2016;15(4) (suppl):s63-s71.
Comparator Regimen: cleanser, bland ointment, petrolatum-based cream and broad spectrum SPF 30+ used twice daily (except sunscreen used morning only). Procedure: Fractionated CO2 Laser - 10,600nm Fraxel Laser (Fraxel; Solta Medical Inc., Hayward, CA, USA).
You can clearly see an improved recovery post-laser resurfacing and not to mention enhanced patient experience because with quicker and better results like this, who's to argue!
If you're considering a skin tightening procedure on your body, there is an option for you as well!
The award-winning TransFORM Body Treatment with TriHex Technology® helps improve the appearance of skin laxity and crepiness, and, when used in conjunction with body contouring procedures, can accelerate and enhance procedure results.
Read about one mommy blogger's experience using the ALASTIN Skincare TransFORM Body Treatment with her CoolSculpting® procedure.
As an example, in a double blind, randomized, comparator-controlled trial, more than 82% of subjects assessed post-cryolipolysis had a greater reduction in arm contour on the TransFORM Body Treatment side versus the control side at 8 and 24 weeks. These results were statistically significant at both time points.*
Female, age 60 - Subject photo courtesy of Amir Moradi, MD
ALASTIN Skincare Regimen: subject received two cryolipolysis procedures on the upper arms and followed up treatment by applying TransFORM Body Treatment twice daily on the subject's left arm and a bland moisturizer on the subject's right arm. Imaging Equipment: photos were taken with the Canfield VISIA®-CR system and converted into a 3D space. Landmarks are placed at the top and bottom of the arm and linear distance measurements are then taken from one landmark to another and replicated at follow-ups. The delta between baseline measurement and follow-up measurement is then calculated. Reference: Widgerow, A.D., Moradi, A., Poehler, J. A Double-Blind Randomized Controlled Trial Evaluating the Efficacy and Tolerability of a Topical Body Treatment in Combination With Cryolipolysis Procedures. J Drugs Dermatol. 2019;18(4):342-348. *Statistically significant results only include evaluable subjects.
Ultimately, the best advice we can offer in your weeks before you plan to undergo a skin rejuvenating procedure is to talk to your health care provider.
And keep in mind, it doesn't just end after the procedure as well!
When you go to the dentist for a regular cleaning, your dental hygienist will remind you to brush and floss regularly between cleanings. If you only went in for your regular cleanings without maintaining the fresh, clean results after your office visit, your next visit to the dentist is likely to include cavity fillings and potentially many other kinds of corrective treatments and surgeries.
This same philosophy should apply to post-procedure care as well. Adding specific pre-procedural skincare to protect the results of your skin resurfacing procedure can help to maintain your beautiful results, as well as help prevent other bigger issues down the road.