Here's What You Need To Know About Skincare Treatments For Your Neck And Décolleté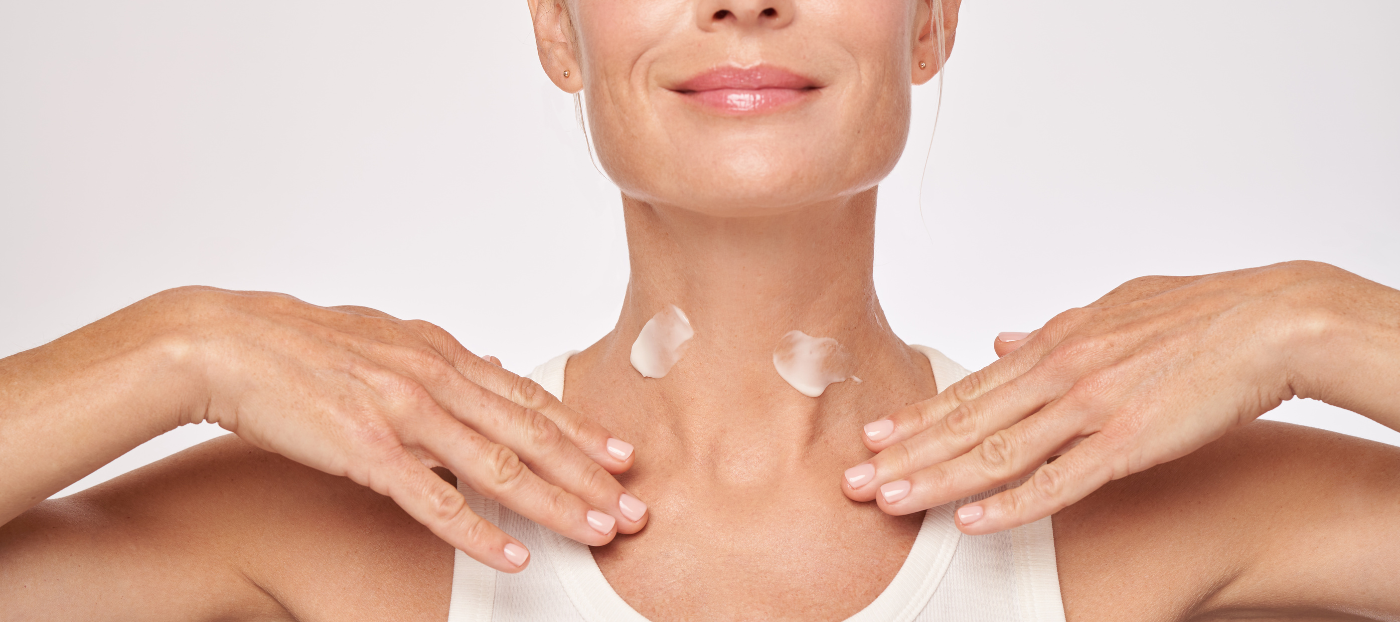 Signs of skin aging don't always first appear where you think it will. For many, your hands and neck can be among the first places that you will notice visible signs of skin aging.
Causes can include everything from less-than-ideal genetics to inadequate sun protection, even sleep positions! What's more, even just the passage of time can work against us; "'as we age, our skin loses water and collagen content, and as a result, it becomes drier and less firm'" as explained by plastic surgeon Jorge L. Menedez, MD on NewBeauty.com. That dry skin can be one of the leading causes of unwanted lines and wrinkles in this often highly visible area.
However, there is plenty you can do to help maintain a healthy, glowing neck and décolleté area which may involve re-examining your beauty regimen and lifestyle habits. 
That said, many are going one step further and exploring the trendy neck frontier of neck and décolleté skin treatments. Let's review some FAQs and get some answers…
Common Questions About Surgical Treatments For Your Neck And Décolleté
You've got a list of questions, we've got some answers. Truth be told our best answer is - talk to your Healthcare Provider about your skin concerns for your neck and décolleté. If you don't have one, use our search tool to find a skincare expert in your area that can review your treatment options with you in detail.
That said, let's review some general FAQs about this hot topic: neck and décolleté skincare treatments!
What is the best treatment for sagging jowls?
Hyaluronic Acid - it's your friend, and it can be injected into your neck and chin areas to help fill in jowls and to address concerns with skin sagging and loss of firmness in the neck and décolleté areas. 
Can Laser Skin Tightening work on my neck too?
Good old fashioned heat can be one of the most effective methods for tightening loose, crepey skin on the neck and just about anywhere. Check out our article for a full deep dive on laser skin tightening.
Do I need a neck lift for my double chin or sagging neck?
A neck contouring surgery, or neck lift, can help create a firmer, smoother, and more refined appearance to the neck and chin area. This may include liposuction or neck lift surgery, or possibly a combination of surgical and nonsurgical treatments for the desired result.
How do I get the best results from my surgical skin treatment for my neck and décolleté?
Your Healthcare Provider will guide you through how to best prepare your skin for your surgical skincare treatment both before and after your rejuvenation procedure.
Many experts recommend starting with the one-two punch of the ALASTIN Skincare TriHex Transition Duo which contains a full-size Regenerating Skin Nectar with TriHex Technology® and a transition-size of the Restorative Skin Complex with TriHex Technology®. Both feature the patented TriHex Technology® designed to support your skin's natural life cycle - promoting the benefits of recycling, rebuilding, and replenishing the skin matrix in order to maintain a healthy glow and youthful appearance.
Nonsurgical Treatments For The Neck And Décolleté
There are many popular nonsurgical skincare treatments you can discuss with your Healthcare Provider as well that can help address your skin concerns in your neck and décolleté area. Some popular skincare treatments you may want to ask them about include: 
And since it's the season of Thanksgiving, let's touch on 5 lifestyle tips to help address that turkey neck, just for good measure!
Do you have more beauty tips for keeping your neck and décolleté area healthy and glowing? Share with us on Instagram and Facebook!