Dermatologist-Recommended Skincare Routine for Your 20s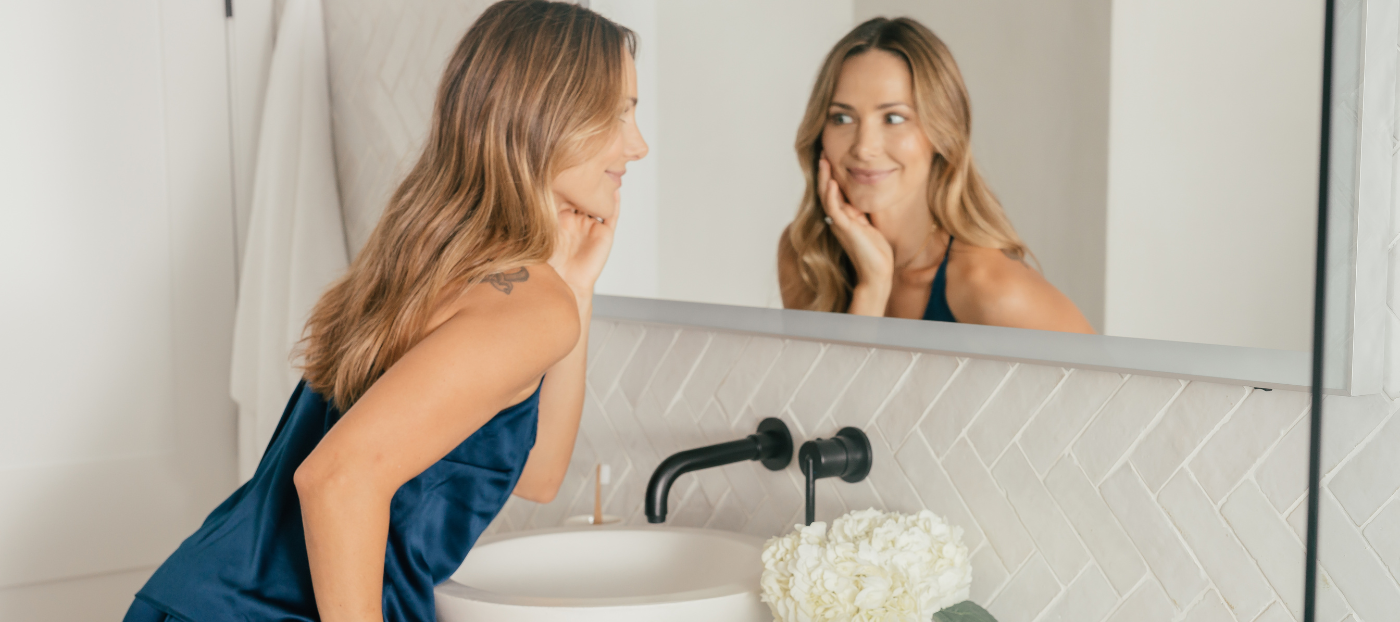 The future looks bright in your 20s, and that goes for your skin too—but only if you get proactive about taking care of it now. This is the decade to focus on good habits to protect your skin because when it comes to anti-aging, prevention is critical.
"We shouldn't wait until skin has become damaged, we should pre-treat the skin or prejuvenate the skin," says Jean Carruthers, MD, FRCSC, FRC (OPHTH), world-renowned researcher and pioneer in the medical aesthetics industry. "The skin is more able to signal and repair itself before it's damaged than after. You can prevent aging changes in your skin."
As early as your mid-20s, collagen and elastin start to decrease and your skin loses its ability to repair itself in the same way it did years before.[1] By taking steps to prejuvenate your skin now, you can boost and preserve key proteins to help maintain glowing, youthful-looking skin.[2]
Need a game plan? Start with a foundation of healthy habits—eat nutritious foods, stay hydrated, get plenty of sleep[3]—and follow this dermatologist-recommended skincare routine to maintain healthy skin for years to come.
Tip 1: Cleanse Correctly
Your skincare routine should be intentional and simple enough to repeat on a daily basis. Start with a commitment to never going to bed with your makeup on and washing your face with a nourishing cleanser (like ALASTIN's Gentle Cleanser) every day and night. Now that you're not a teenager, it's time to get rid of those harsh drugstore cleansers and astringents.
Tip 2: Look for Multipurpose Products
Step into adulthood and upgrade to quality, multitasking products. "All of our lives are really busy, so I think it's important to have products that do multiple things at one time so that you're not sitting there doing a 10-step skincare routine," says board-certified dermatologist Amelia K. Hausauer, MD, FAAD.
One suggestion: The Restorative Skin Complex is a workhorse that simplifies your routine by tackling multiple concerns at once. It helps improve your skin texture (a common concern in your 20s), while also combatting the appearance of wrinkles, targeting pigmentation, and incorporating ALASTIN's TriHex Technology®, a peptide blend that clears out old elastin and collagen and helps the skin rebuild new elastin and collagen.[4]
Dr. Hausauer says, "Even at a very early age in our mid-20s we start to break down collagen and elastic fibers. In particular, elastic fibers are very slow to turn over and there are not a lot of things in terms of skincare or procedures that really target those directly. So for any patient who's looking to protect their skin and prevent that breakdown, this is a really good product."
Tip 3: Use SPF every day
Sun damage is the top cause of photoaging, and all the cumulative harm you do in your 20s can show up in your 30s and beyond in the form of wrinkles, fine lines, and hyperpigmentation.[5] Make it a priority to protect yourself against harmful rays every single day—not just during the summer or when you're at the beach. You can experience sun damage strolling around your neighborhood, driving your car, or even indoors, sitting by a window.[6]
Use a product (such as HydraTint) that provides broad-spectrum UVA/UVB sun protection but feels comfortable enough to wear daily. In addition to shielding your skin from rays, HydraTint also hydrates, brightens skin, and adds a glowing tint so you can skip foundation if you wish. Tip: Don't skip your neck and décolleté, which are both susceptible to sun damage.
Tip 4: Protect your eyes
If you used to pull all-nighters and not see any effects on your skin, that may change as you enter your 20s. The thin skin around your eyes is one of the first areas where aging shows,[7] and adding an eye cream to your routine now will pay off later. Decrease puffiness and keep your skin hydrated with Restorative Eye Treatment, which lessens the appearance of dark circles, improves skin elasticity, and clears out damaged elastin and collagen while helping to produce new, healthy elastin and collagen.
Tip 5: Add Retinol to your nightly routine
This Vitamin A derivative is a do-it-all product with countless benefits, from defending against fine lines to boosting cell turnover and calming sensitive skin.[8] If you see early signs of aging (i.e. crow's feet) or you simply want to get ahead of the game, start using retinol in your mid-20s.
For some, retinol can cause peeling and irritation at first. It's important to start slowly (just a few nights a week), and look for a formulation that is anti-irritating like Renewal Retinol, which incorporates oat extract and silver mushroom to help calm and hydrate skin. Note: While using retinol, you should be extra diligent about applying SPF, and apply retinol only at night before bed.[9] 
Tip 6: Consider preventative procedures
If you've started to notice effects from the sun or want to take preventative anti-aging measures, there are a few non-surgical procedures that could help. For sun damage issues, an Intense Pulsed Light (IPL) treatment could be appropriate to target specific areas. These non-invasive "photofacials" use broadband light to improve the appearance of sunspots. When used before and after the procedure, Regenerating Skin Nectar helps to improve results, accelerate healing, and maximize lasting benefits.[10]
If fat reduction is your biggest concern, non-surgical body contouring uses heating or cooling devices to help reduce stubborn fat cells. TransFORM Body Treatment can help maximize results and accelerate the removal of broken-down fat cells.[11]
Your 20s is the perfect time to implement a new skincare routine focused on prevention. With a prejuvenation mindset and solid habits in place, you can ensure long-term health for your skin.
 References
[1] Ganceviciene, R., et al. (2012, Jul 1). "Skin Anti-Aging Strategies." Dermato-Endocrinology. https://www.ncbi.nlm.nih.gov/pmc/articles/PMC3583892/
[2] "Ways to Get Healthier Looking Skin by Boosting Collagen Levels." (2017, April 26). Medical News Today. https://www.medicalnewstoday.com/articles/317151
[3] Shagen, S.K., et al. (2012, Jul 1). "Discovering the Link Between Nutrition and Skin Aging." Dermato-Endocrinology. https://www.ncbi.nlm.nih.gov/pmc/articles/PMC3583891/
[4] Widgerow, A., et al. (2014, April 15). "Extracellular Matrix Modulation: Optimizing Skin Care and Rejuvenation Procedures." Journal of Drugs in Dermatology. https://pubmed.ncbi.nlm.nih.gov/27050707/
[5] "Photoaging: What You Need to Know About the Other Kind of Aging." (2019, Jan 10). Skin Cancer Foundation. https://www.skincancer.org/blog/photoaging-what-you-need-to-know/
[6] "5 Sneaky Ways You're Being Exposed to the Sun's UV Rays." (2017, May 10). Skin Cancer Foundation. https://www.skincancer.org/blog/sneaky-ways-youre-being-exposed-to-the-suns-uv-rays/
[7] "Wrinkles." (2019, Dec 18). Mayo Clinic. https://www.mayoclinic.org/diseases-conditions/wrinkles/symptoms-causes/syc-20354927
[8] Mukherjee, S., et al. (2006, Jan 4). "Retinoids in the Treatment of Skin Aging: An Overview of Clinical Efficacy and Safety." Clinical Interventions in Aging. https://pubmed.ncbi.nlm.nih.gov/18046911/
[9] "When Beauty Products can Cause Skin Sensitivity." (2018, Nov 16). Skin Cancer Foundation. https://www.skincancer.org/blog/when-beauty-products-cause-sun-sensitivity/
[10] Robinson, D.M. & Frulla, A.P. (2017, Jul 1). "Randomized, Split-Face/Décolleté Comparative Trial of Procedure Enhancement System for Fractional non-Ablative Laser Resurfacing Treatment." Journal of Drugs in Dermatology. https://pubmed.ncbi.nlm.nih.gov/28697226/
[11] Moradi, A. (2020, Feb 3). "A Randomized Double-Blind Trial Evaluating the Efficacy and Tolerability of Topical Body Treatment with TriHex Technology ® Combined with Abdomen Cryolipolysis or Radiofrequency Procedures."  Journal of Drugs in Dermatology. https://pubmed.ncbi.nlm.nih.gov/32009299/