Advice On How To Keep Your Eye Area Looking Young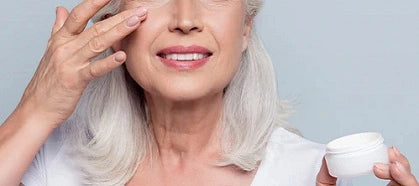 Eye Cream: Skincare Tips for Applying Eye Cream & Who Should Be Using It
Sophia Loren once said, "Beauty is how you feel inside, and it reflects in your eyes." Do you think the iconic, beautiful, Italian actress was using eye cream? We do! 
Of all the facial skincare products out there, eye cream can be perceived as one of the most redundant. Isn't it the same as face cream but more expensive? Why should you use it? When should you use it? How do you apply it? 
As your go-to skincare experts, we're here to answer all of your eye cream questions, so you'll be able to clearly see how taking special care of your eye area should be a vital part of your very own iconic beauty regimen. 
Eye Cream Basics
First things first. Let's talk about the skin around the eyes and what makes it unique to the rest of your face and body.  
You may or may not have realized that the skin around the eyes is thinner and more fragile than other parts of your body. This sensitive skin combined with the constant movements of our eyes surveying the world around us, smiling with our loved ones, and squinting because we forgot our sunglasses, all create the perfect storm for creating those pesky fine lines and wrinkles around the area.  
Once you add a few decades of sun damage (unless you live in a cave), you can see how the problem would only get worse with time. As our skin ages, our bodies also produce less collagen and elastin, two key ingredients that keep our skin looking renewed and refreshed.  
In addition to sensitive skin, the skin under the eyes can collect fluid that can cause the eyes to look puffy or have dark circles underneath them. Are those enough reasons to never want to age… err, we mean, to use an eye cream?
Eye Cream: Who Needs it and When?
Have you ever heard the phrase "an apple a day keeps the doctor away?" While eye cream won't help with your digestion, the sentiment that prevention is the best medicine is the same.  
Starting an eye cream routine in your 20s is the best way to get ahead of the curve before your skin shows any signs of aging. However, for some of us, the list of "things we wish we would have known in our 20s" is long and we're past that point. So are you a lost cause? #nope. It's never too late to get started! 
The general recommendation is to start using eye cream in your 30s when perhaps you just begin noticing the results of all of your fun in the sun from your youth. As far as the "who" is concerned, basically everyone should be wearing eye cream. Everyone's eyes are subject to the same smiling, squinting, looking around wear and tear that we mentioned above. And yes, that includes men as well!
What Should I Look for in an Eye Cream?
At this point you're probably thinking, great, so now I know I need one because I've been winking and squinting for years, but there are so many out there! Help! How do I know what I'm supposed to look for in an eye cream?  
As mentioned earlier, the eyes are delicate and ensuring that you choose an eye cream that will take special care of them is critical. The right eye cream will be tailormade for addressing these types of issues. 
Enter the ALASTIN Skincare award-winning, Restorative Eye Treatment with TriHex Technology®.  
InStyle Magazine agrees that this is the best eye cream, made specifically for those areas around the eyes that are essential for a rejuvenated, youthful appearance.  It reduces the appearance of fine lines and wrinkles, as well as helps improve skin firmness around the eye. And let's not forget about those puffy dark circles, this best-selling eye cream promotes even skin tone and lessens the appearance of puffiness and dark circles. 
Expert Tips for Applying Eye Cream 
A few months ago on the blog, we talked about the proper order of application for skincare products to get the best results out of your beauty products and routine. Eye cream falls into the middle of the sequence under the Heal and Correct category. This is after your face is cleansed and prepped with toner, but before you add hydration and moisturizer to your whole face and neck.  
Essentially, once you've washed your face with a gentle cleanser, exfoliated, and toned, now you're ready for your eye cream. 
Remember when we said that the skin around the eye is thinner and more sensitive and already works pretty hard just to make it through the day with all the squinting and smiling?  You want to make sure that when you're applying the eye cream, you're doing it in a soft and delicate manner so as not to pull on the skin unnecessarily. Especially because we've already learned that as we age, skin elasticity decreases so we don't want to do anything voluntarily to make it worse.    
First, you'll want to get about a pea-sized amount of eye cream. This should be enough for both eyes. Your ring finger is your weakest finger so it will be the gentlest with your application. Use your ring finger to dab small dots from the inner corner of your eye all the way to your brow bone.  
Important! You don't want to just rub the product in. Remember what we said about skin elasticity? Just gently tap each of the dots on the skin following the pattern until it is absorbed. Also, be careful not to apply it too close to your eyes to avoid any of it getting into your eyes. 
Finally, let's talk about the best time of day to apply eye cream. For best results, you'll want to apply eye cream during both your morning and evening skincare regimen. This will allow the product to be working for you all day long. When applying it in the morning, you'll want to wait about 90 seconds after application before adding moisturizer, sunscreen, concealer, or any other products to the area. You really want to make sure all of the goodness of the product has some time to sink in and absorb into the skin. If you were to add another product right on top of it, then you'd likely be spreading it around to different areas of the face and not getting the full benefits where they're really needed. 
Once you're done, you can continue with your hydration and moisturizer and the rest of your morning or nighttime regimen!
So, do you have an award-winning eye cream yet? Make sure your daily ritual also includes carrying/using sunglasses and sunscreen because… squinting.