How to Get Glowing Skin for Your Wedding Day!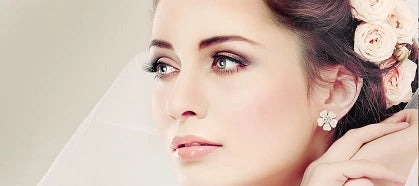 Bridal Skincare Routine: A Wedding Beauty Regimen for Glowing Skin
Your big-day countdown has started, and if you haven't considered your beauty regimen leading up to the big day, you're missing a very important part of your wedding planning!
Yes, deciding who will do your makeup and hair for the big day, and finding beautiful bridal inspiration are important parts of the process, but you should really be focused on your beauty and skincare regimen starting at least one year before the big day!
Yes, one year! Because let's face it, glowing skin doesn't necessarily happen overnight.
And yes, we've organized a 12-month timeline-based bridal beauty regimen to help ensure you are glowing, inside and out, as you walk down the aisle.
Bridal Beauty & Skincare Checklist
Starting from as far as 12 months before your big day, here's our bridal beauty checklist, covering everything from skincare and hair to makeup and health!
Beauty & Bridal Skincare Routine Tips to Consider 12 Months Before Your Wedding:
Schedule an appointment with your aesthetic practice: if you don't have one yet, use our skincare expert location finder. You are going to want to discuss your skin concerns and goals and because glowing skin takes time, they can help put you on a skincare plan customized to you that will have your skin glowing by your wedding day.
Take a proactive approach to stress: the next year of wedding planning can certainly bring an added sense of anxiety so be thoughtful about adding in stress-reducing habits into your daily life - perhaps you'll finally try meditation or yoga or download the Calm app for some helpful breathing tips and nighttime habits. Stress can easily and overtly affect how you look on your wedding day by causing lack of sleep, inflammation, complexion issues, and so much more, so start thinking about how you'll combat stress this year.
Treat yourself to laser hair removal: though it might be considered a splurge, your wedding is a great excuse to take the plunge! Be prepared to start this about a year out though because permanent results typically require about six sessions spaced about 1-2 months apart.
Don't skip your décolleté when considering your skincare regimen: look for a décolleté firming skincare treatment designed specifically for the neck area that can help to ensure you look stunning in your dress.
Lay off the tweezers: give your brows a break and explore how they naturally grow and you just might discover a thickness that you didn't know existed. A year is plenty of time for them to grow and play with the shape to find the most flattering look for you.
Ensure a beautiful, white smile: get to the dentist for a good cleaning and x-rays. While you're there, discuss if teeth whitening or clear aligners might help to ensure that your smile is the best it can be for your wedding photos!
Cuticle oil is your friend: keeping your nails hydrated is the best thing you can do for them, so invest in a good nail cuticle oil and apply every night before bed.
Ladies, wear your sunscreen: face, lips, neck, décolleté, and hands. Ideally, it's everywhere, head-to-toe, but at least make sure that these areas are covered and that you reapply every couple hours especially if you're in the sun. You might like an elegant moisturizing face SPF with a tint or opt for a colorless broad spectrum sunscreen for daily protection, but either way, you want to prevent new discoloration and sun damage before the wedding.
Work on your sleep routine: lack of sleep over a long period of time can wreak havoc on your appearance, so try to nail down a regular routine that allows you eight hours every night. You might also try to sleep on your back (side or facedown sleep can cause lines and wrinkles!) or try a satin pillowcase if you are a side sleeper to minimize the effects on your skin while you sleep.
Develop healthy habits and diet: if not now, when? Take time to plan your meals and exercise, and pay special attention to limiting sugar and alcohol as the effects of these are really hard to reverse, so start now!
Wash your face with your hands: aesthetic physicians will be the first to tell you that washcloths can harbor bacteria so start washing your face with your fingertips, and gently, especially around the delicate eye area, in an effort to stimulate circulation and get a nice deep cleanse.
Add an eye cream to your skincare regimen: and speaking of your eye area, now is a great time to invest in a dermatologist-approved eye cream that can help to reduce the appearance of fine lines and wrinkles and even promotes even skin tone and helps reduce the appearance of dark circles around the eye.
Beauty & Bridal Skincare Routine Tips to Consider 6-9 Months Before Your Wedding:
Decide if retinol is right for you: universally agreed to be the gold standard of skincare must-haves, retinol is derived from vitamin A and is recognized for its unique ability to combat the signs of skin aging. Make sure to find the right formula and strength for you, as many can cause irritation, but the 5-star rated ALASTIN Skincare Renewal Retinol features a formula where the active retinol is encapsulated in a solid lipid, resulting in an anti-inflammatory and anti-irritant formula that can be used every evening.
Make an effort to schedule regular facials with an aesthetician: you might even consider adding microdermabrasion, glycolic acid, or other chemical peel treatments to your skincare services that can help to shed old skin cells, replacing them with more glowing skin. If you do, make sure to pair your skin rejuvenating procedures with proper procedure skincare to help you get the best results and minimize downtime.
Add dry brushing to your skincare regimen: this easy and cost-effective skincare habit can both exfoliate skin, help with circulation, and frankly just feels great! You'll find skin feels smoother and your body skincare can penetrate deeper.
Invest in a humidifier: this can help keep your skin happy and stave off pesky skin conditions like keratosis pilaris (aka KP) by introducing moisture into the air particularly during cold temperatures which is one of the triggers for KP.
Do your hair a favor with keratin treatments and deep conditioning: unless your hair is perfectly healthy, your hair could likely benefit from some TLC. If you plan to treat yourself to a spa day between now and the big day, consider this handy trick: grab one of the complimentary shower caps and after you wash your hair, load it up with a conditioner and use the shower cap. Now indulge in a nice, relaxing sauna sesh and let the conditioner do its thing!
Use this time to plan (and play!) with your hair color: six to nine months before the big day should be enough time to really nail down the ideal hair color that truly suits you. It's also enough time to find a new colorist if the first one or two can't achieve what you're looking for.  
Update your makeup stash: no need to go overboard; if you don't typically wear a lot of makeup you don't need to on your big day either! Remember, these images should stand the test of time, so they should look like you, just an extra special version of you. You might also consider finding a satin finish foundation; "satin has luminosity, and makes the skin look pretty," according to Sonia Kashuk in a recent article from Brides.com. "You want that little bit of glow and dewiness that you don't get with a matte formula. But at the same time, you don't want too much shimmer. Satin gives the kind of balance that's most reminiscent of natural skin." Also, on the topic of your makeup, make sure that you're shampooing your makeup brushes often if you aren't already; again lots of bacteria can build up and affect your skin's complexion and health.
Lay off the red wine and coffee: you already know these are likely culprits for staining your teeth but if cutting back or out altogether is never gonna happen, at least switch to a metal or paper straw to minimize the potential damage.
Focus your exercises on toning your upper body: in all likelihood, your dress is going to put your upper body on display for your wedding, so if your time is limited for exercise, focus on what matters most. To save you some time, here are the 5 best upper body exercises to try from Nourish Move Love.
Attempt to manage excess facial oil: blotting papers can be a girl's best friend. But if you have particularly oily skin, look for a gentle cleanser and an oil-free moisturizer that you can easily implement in your pre-wedding skincare at home regimen to help cut down on the oiliness.
Beauty & Bridal Skincare Routine Tips to Consider 3 Months Before Your Wedding:
Get serious with your skin; it's time to exfoliate: the big day is approaching, so now is the time to really slough off dry skin and because your skin cells replenish about once a month, you still have time to reign in fresh, glowing skin. You might also try a salt scrub on elbows and feet to usher in that touchable skin.
Explore if juicing works for you: whether it's the trendy celery juice craze or your trusted green juice from Nektar, now is the time to try implementing a regular juice into your diet. Perhaps you try three days a week replacing your breakfast and lunch with a juice to cut back on calories - whatever works for you! And if you want to learn more about the latest craze, get the facts and recipe for celery juice from Goop!
See if hair extensions are for you: if your hair falls shy of the volume you envision for your wedding, 3-months in advance is a good time to give hair extensions a try. There are several options for types of hair extensions, so do your research - some can cause hair fallout which of course you want to avoid!
Give up stress-eating and focus on superfoods: similar to the juicing topic mentioned above, focus your diet on superfoods like grapefruit, cucumbers, tomatoes, and kale to help your body detox and get the nutrients it needs. Stress eating can really ramp up during this crunch time before the wedding, so try healthy alternatives to your favorite indulgent foods.
Really focus on drinking water: like wearing sunscreen every day, this is a no-brainer and a healthy habit we should always employ, but especially during this time. If healthy, glowing skin is on your bridal beauty checklist, make sure that you're drinking at least 8 eight ounces of water a day (commonly known as the 8x8 rule - hey, it's easy to remember!). Additionally, you can focus on water-heavy foods like watermelon to make sure you're hitting that daily recommended mark!
Beauty & Bridal Skincare Routine Tips to Consider 1 Month Before Your Wedding:
Source: TheKnot.com
Dial-in the right spray tan: this is often a trial-and-error kinda situation so give yourself time to find the right non-orange shade for yourself; a great time to do this is at your dress fitting to make sure the shade is just right and again two days before your wedding.
Avoid running mascara and opt for lash extensions: just keep in mind that you want a natural look, yet still glamorous. You'll want to schedule the first appointment 2-3 weeks out from the big day and then schedule a touch-up just two days before your wedding.
De-puff: now is the time to cut salt, dairy, sugar (hopefully you already did!), and bread in the name of depuffing. Generally speaking, opting for a gluten-free diet can go a long way to reduce bloat and inflammation and help you fit in that dress!
Pack a day-of beauty kit: our must-haves for your bag would include lipstick/gloss, concealer, blotting papers, Q-tips, translucent powder, breath mints, floss, tissues, ibuprofen, deodorant, baby powder, bobby pins, and bandaids. Put your maid-of-honor in charge of this bag, she's earned the trusted status, she can likely handle all circumstances that require these beauty essentials.
Can we offer one more bonus bridal beauty tip? Schedule a massage for the week of your wedding. There's a lot to plan and manage leading up to the big day and if nothing else, you should look and feel good when you walk down the aisle. A relaxing massage, solo or with the bridal party, can help get your mind right so you can focus on what really matters - you're marrying the love of your life! Congrats!