Anti-Aging Skincare Routine by Decade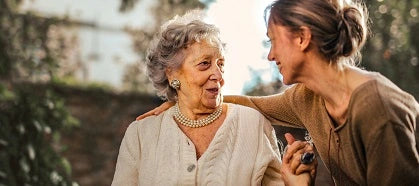 From your 20s on, as you grow a little older and wiser with each decade, your skincare needs change. Starting the proper treatments early will help ensure you keep more youthful-looking skin well into your senior years. Alastin has many products that can simplify your routine while providing benefits like protection from sun damage, reduction in the appearance of fine lines and wrinkles, and promotion of elastin and collagen production. Keep reading for our complete guide to skincare for aging skin.
If you're in a time crunch, use these quick links to skip straight to your decade to find a great anti-aging skincare routine to combat time:
Dermatologist-Recommended Skincare Routine for Your 20s
The future looks bright in your 20s, and that goes for your skin too—but only if you get proactive about taking care of it now. This is the decade to focus on good habits to protect your skin because, when it comes to anti-aging, prevention is critical.
"We shouldn't wait until skin has become damaged; we should pre-treat the skin or prejuvenate the skin," says Jean Carruthers, MD, FRCSC, FRC (OPHTH), world-renowned researcher and pioneer in the medical aesthetics industry. "The skin is more able to signal and repair itself before it's damaged than after. You can prevent aging changes in your skin."
As early as your mid-20s, collagen and elastin start to decrease, and your skin loses its ability to repair itself in the same way it did years before.[1] By taking steps to prejuvenate your skin now, you can boost and preserve key proteins to help maintain glowing, youthful-looking skin.[2]
Need a game plan? Start with a foundation of healthy habits—eat nutritious foods, stay hydrated, and get plenty of sleep[3] and follow this dermatologist-recommended skincare routine to maintain healthy skin for years to come.
Tip 1: Cleanse Correctly
Your skincare routine should be intentional and simple enough to repeat on a daily basis. Start with a commitment to never going to bed with your makeup on and washing your face with a nourishing cleanser (like ALASTIN's Gentle Cleanser) every day and night. Now that you're not a teenager, it's time to get rid of those harsh drugstore cleansers and astringents.
Tip 2: Look for Multipurpose Products
Step into adulthood and upgrade to quality, multitasking products. "All of our lives are really busy, so I think it's important to have products that do multiple things at one time so that you're not sitting there doing a 10-step skincare routine," says board-certified dermatologist Amelia K. Hausauer, MD, FAAD.
One suggestion: The Restorative Skin Complex is a workhorse that simplifies your routine by tackling multiple concerns at once. It helps improve the appearance of skin texture (a common concern in your 20s), while also combating the appearance of wrinkles, targeting pigmentation, and incorporating ALASTIN's TriHex Technology®, a peptide blend that clears out old elastin and collagen and helps the skin rebuild new elastin and collagen.[4]
Dr. Hausauer says, "Even at a very early age, in our mid-20s, we start to break down collagen and elastic fibers. In particular, elastic fibers are very slow to turn over, and there are not a lot of things in terms of skincare or procedures that really target those directly. So, for any patient who's looking to protect their skin and prevent that breakdown, this is a really good product."
Tip 3: Use SPF every day
Sun damage is the top cause of photoaging, and all the cumulative harm you do in your 20s can show up in your 30s and beyond in the form of wrinkles, fine lines, and hyperpigmentation.[5] Make it a priority to protect yourself against harmful rays every single day—not just during the summer or when you're at the beach. You can experience sun damage strolling around your neighborhood, driving your car, or even indoors, sitting by a window.[6]
Use a product (such as HydraTint) that provides broad-spectrum UVA/UVB sun protection but feels comfortable enough to wear daily. In addition to shielding your skin from rays, HydraTint also hydrates, brightens skin, and adds a glowing tint, so you can skip foundation if you wish. Tip: Don't skip your neck and décolleté, which are both susceptible to sun damage.
Tip 4: Protect your eyes
If you used to pull all-nighters and not see any effects on your skin, that may change as you enter your 20s. The thin skin around your eyes is one of the first areas where aging shows,[7] and adding an eye cream to your routine now will pay off later. Decrease the appearance of puffiness and keep your skin hydrated with Restorative Eye Treatment, which lessens the appearance of dark circles, improves skin elasticity, and clears out damaged elastin and collagen while helping to produce new, healthy elastin and collagen.
Tip 5: Add Retinol to your nightly routine
This Vitamin A derivative is a do-it-all product with countless benefits, from defending against fine lines to boosting cell turnover and calming sensitive skin.[8] If you see early signs of aging (i.e., crow's feet) or you simply want to get ahead of the game, start using retinol in your mid-20s.
For some, retinol can cause peeling and irritation at first. It's important to start slowly (just a few nights a week) and look for a formulation that is anti-irritating like Renewal Retinol, which incorporates oat extract and silver mushroom to help calm and hydrate skin. Note: While using retinol, you should be extra diligent about applying SPF, and apply retinol only at night before bed.[9]
Tip 6: Consider preventative procedures
If you've started to notice effects from the sun or want to take preventative anti-aging measures, there are a few non-surgical procedures that could help. For sun damage issues, an Intense Pulsed Light (IPL) treatment could be appropriate to target specific areas. These non-invasive "photofacials" use broadband light to improve the appearance of sunspots. When used before and after the procedure, Regenerating Skin Nectar helps to improve results, accelerate healing, and maximize lasting benefits.[10]
If fat reduction is your biggest concern, non-surgical body contouring uses heating or cooling devices to help reduce stubborn fat cells. TransFORM Body Treatment can help maximize results and accelerate the removal of broken-down fat cells.[11]
Your 20s are the perfect time to implement a new skincare routine focused on prevention. With a prejuvenation mindset and solid habits in place, you can ensure long-term health for your skin.
Anti-Aging Skincare Tips for your 30s
Life can get a little crazy in your 30s and 40s. Whether your career has kicked into high gear, or your family life is busy (or both), these two decades can be complicated. And so can your skin. Your hormones start to fluctuate, signs of environmental damage begin to appear, and your skin cells' turnover rate slows dramatically.
Although this might not sound like great news for your skin, there are many ways to combat these issues and maintain a healthy glow. If you've been a bit lax with your skincare routine in the past, now is the time to redefine (or firmly establish) your regimen. Follow these tips to establish a healthy skin routine for your 30s.
Tip 1: Hydrate, hydrate, hydrate
If you used an over-the-counter lotion in your younger years, consider upgrading to a more protective moisturizer to properly hydrate your skin. Following a gentle cleanser, apply ALASTIN's Ultra Nourishing Moisturizer with TriHex Technology® to both improve and lock in hydration while encouraging the clearing of old, damaged proteins and the production of new elastin and collagen (thanks to ALASTIN's proprietary TriHex Technology®).
Tip 2: Never forget SPF
Here's one no-brainer reason to apply SPF: Daily sunscreen use can reduce the risk of developing skin cancer by 50 percent. But there are many benefits to using sunscreen. One of the biggest reasons to apply SPF is to prevent premature skin aging. Like drinking plenty of water and choosing nutritious foods, shielding your skin should be one of your everyday healthy habits. In fact, one study found that people who applied sunscreen daily experienced 25 percent less skin aging over the course of just four years. For a broad-spectrum sunscreen with a glowy tint and protection against environmental pollution, add HydraTint Pro Mineral Broad-Spectrum SPF 36 to your regimen.
Tip 3: Treat wrinkles ASAP
Your eyes and the thin skin around them can be one of the first telltale signs of aging skin. Combat crow's feet, puffiness, and uneven skin tones by adding a focused product (like Restorative Eye Treatment) to your regimen. For the rest of your body, try the Restorative Skin Complex to help clear out damaged proteins and trigger the production of new elastin and collagen.
Here's what popular beauty writer Allison Payer of Who What Wear said about using Restorative Skin Complex in her 30s:
"My very discerning dermatologist raves about Alastin products, and this is the year I'll take her advice. The brand's most acclaimed product is its Restorative Skin Complex, which I'm looking forward to trying first. It helps clear out damaged elastin and collagen while restoring volume and evening skin tone."
Tip 4: Get serious about problem areas
Whether or not you've contemplated professional skin treatments in the past, you may want to start taking those considerations more seriously. Fillers and injectables are commonly used to reduce the appearance of wrinkles or to enhance the look of fullness in spots like the cheeks, undereyes, and lips. To enhance any injectable results, use INhance Post-Injection Serum with TriHex Technology® which accelerates recovery from any bruising or swelling, while promoting skin hydration and plumpness.
To improve signs of sun damage such as hyperpigmentation or sunspots, a non-invasive Intense Pulsed Light (IPL) treatment delivers broad-spectrum light to the skin's deep layers. Similarly, ablative and non-ablative laser treatments use highly concentrated light beams to resurface the skin, reduce wrinkles, and improve tone and texture. To prepare and recover from procedures like these, try Regenerating Skin Nectar with TriHex Technology® to improve your results and help to ensure an easy recovery. If your procedure is more invasive, the thick and hydrating Soothe + Protect Recovery Balm should be used afterward to further calm skin and promote the healing process.
Explore which procedures might be right for you by first consulting with a healthcare professional. Find a provider in your area through our provider locator.
Tip 5: Start retinol (or up your use)
Help your skin increase collagen and elasticity—which in turn helps prevent wrinkles—by adding retinol to your nightly routine. The vitamin A derivative exfoliates the skin to accelerate cell turnover. New cells mean firmer, brighter skin. Renewal Retinol uses calming and hydrating ingredients like oat extract and silver mushroom, which are both gentle on the skin. Beginners: Carefully add retinol (.25 strength) to your nightly routine a couple times a week and maintain daily SPF use to avoid sunburn. Long-time users: Consult a dermatologist to see if you should increase the strength (.50) or frequency of retinol.
Anti-Aging Skincare Tips for your 40s
As women enter the mid- to late-40s age bracket, estrogen levels start to decline due to perimenopause. That lack of estrogen causes issues such as decreased elasticity and increased dryness. Without addressing this lack of moisture, you could wind up with premature fine wrinkles, especially around the eyes and mouth. And even for those in their early 30s, prejuvenation—taking action now to prevent further signs of aging—has never been more critical.
Tip 1: Hydration is still key
As in your 30s, you want to focus on hydrating products that moisturize and repair your skin. ALASTIN's Ultra Nourishing Moisturizer with TriHex Technology® improves and locks in hydration while encouraging the clearing of old, damaged proteins and the production of new elastin and collagen. For other areas of your body where crepey skin may start to appear—such as arms, hands, and knees—use the TransFORM Body Treatment with TriHex Technology® daily.
Tip 2: Use Sunscreen with extra benefits
Now is not the time to give up sunscreen use. Whether you enjoy the added glow from Hydratint or you're looking for additional anti-aging benefit to go with that SPF, we have great products to choose from, like SilkSHIELD® All Mineral Sunscreen SPF 30 with TriHex Technology®. This gentle yet powerful sunscreen features a blend of peptides that provides anti-aging benefits beyond simple sun protection.
Tip 3: Focus on wrinkle reduction and problem spots
The skin around your eyes probably started showing signs of a life well lived (laugh lines) before now, but if you haven't yet treated them, it's a good time to start. Adding Restorative Eye Treatment to your anti-aging skincare routine will help reduce the appearance of those fine lines and puffiness around your eyes.
Another product that will continue to provide benefits throughout your life is Restorative Skin Complex. In an article on New Beauty, Bloomfield Hills, MI dermatologist Linda Honet, MD, says peptides are key: "This is like the cherry on top in a skin-care routine. The brilliance of peptides is that they can boost collagen and elastin production and mediate healthy skin functions and processes. I am especially partial to Alastin's Restorative Skin Complex, and it is also part of my regimen."
Celebrities over 40 are also raving about this product. In the Prevention article, "7 Anti-Aging Beauty Products Celebs Over 40 Are Obsessed With," Patricia Heaton of "The Middle" was quoted, "Morning Must! Coffee for me + @AlastinSkincare Restorative Skin Complex for my face."
For other signs of aging, like photodamage and uneven texture, a vitamin C product will help. Our new C-RADICAL Defense Antioxidant Serum is formulated with a novel form of Vitamin C and 14 proven antioxidants to help reduce the effects of free radicals and protect against environment stressors.
Dermatologist-Recommended Skincare Routine for Your 50s and beyond
Reaching the age of 50 is a huge milestone worth celebrating. By this decade, many things in life have been firmly established, and (hopefully!) you can take time to truly concentrate on yourself. For women, one inevitable change in our early 50s is the onset of menopause, which influences a lot of changes in your body—including our skin.[12]
If you've already been conscientious about skincare during your 30s and 40s, you probably don't need to drastically change your routine. But given the hormonal changes throughout this decade and beyond, you may consider enhancing your regimen—or refocusing your energy—to cater to your skin's current needs.
Tip 1: Prioritize skin hydration
During menopause your ovaries stop producing estrogen, a hormone that has been shown to improve skin elasticity, hydration, and thickness.[13] This estrogen deficiency is responsible for an accelerated decrease in collagen—approximately 2.1 percent per year after menopause—which means skin loses its volume and wrinkles may become more obvious.[14] In addition, fractured collagen and damaged elastin, created by aging and external factors like sun exposure, pollute the skin, increasing the look of dryness, uneven tone, and fine lines.[15]
To restore hydration and volume in your skin, use a quality product that helps the body get rid of the old collagen and elastin so that new, healthy proteins can form. Alastin's Ultra Nourishing Moisturizer with TriHex Technology® nourishes the skin by locking in hydration and supporting the production of new, healthy elastin and collagen. To hydrate the entire body from the inside out and address the look of crepey skin on areas like your forearms and knees, add in Alastin's TransFORM Body Treatment with TriHex Technology®.
Tip 2: Don't neglect your neck
As we age, the structural integrity of our skin starts to decline, and it can become loose and saggy due to the lack of collagen.[16] Those delicate outer layers, particularly around the neck and eyes, become even more sensitive. Now more than ever is the time to pay attention to your thin-skinned areas. After washing with a gentle cleanser, use Alastin's Restorative Neck Complex with TriHex Technology® to help tone, hydrate, and tighten the skin around your neck and décolleté.
Tip 3: Reinforce good SPF habits
Sun protection was a good idea in your 20s, 30s, and 40s, and it's still crucial now. Not only can sunscreen continue to protect you against skin cancer,[17] it can also combat age spots, blotchy patches, and thinning skin.[18] The most common cause of thin, crepey skin is ultraviolet radiation, which breaks down the skin's elasticity.[19] Although those elastic fibers can heal, they can't repair completely with repeated exposure. The combination of sun damage plus genetics, skin type, and other bad habits (such as smoking and poor nutrition) can lead to a future of thinner skin.
To prevent crepey skin from developing, seek out shade, wear protective clothing, and apply a sunscreen with an SPF of 30 or higher when you're outside.[20] Alastin's HydraTint Pro Mineral Broad Spectrum Sunscreen SPF 36 meets multiple needs in your 50s and 60s: It protects against UVA/UVB rays and pollution while also providing hydration and evening your skin thanks to a universal tint that works with most skin tones.
Tip 4: Seek out treatments that make you happy
Your daily regimen can do wonders, but it can only go so far when it comes to erasing skin damage and minimizing signs of aging. It may take going beyond skincare to feel the best about your appearance—which is something you deserve! Always consult a dermatologist to recommend a procedure that's best for your individual skin.
If loose skin or facial wrinkles are your main concern, popular surgeries such as a facelift or necklift can help reduce sagging around the face and neck. A browlift or blepharoplasty (eyelid surgery)—the latter of which was the second-most popular plastic surgery in 2020[21]—can fix droopiness around the eyes. Non-surgical skin tightening treatments such as Ultrasound Skin Tightening or Radiofrequency Treatments achieve firmer skin by stimulating elastic and collagen production.
To improve skin tone and texture, treatments such as Intense Pulsed Light therapy (IPL) deliver pulses of broad-spectrum light to improve the appearance of damage from sun exposure. Microneedling utilizes tiny skin punctures to help produce new collagen and elastin to help correct dark spots and mild scarring. Laser resurfacing treatments use highly concentrated light beams to improve skin's overall tone and laxity.
To prepare for and recover from any in-office procedure—both surgical and less invasive—try treatment-enhancing products such as Regenerating Skin Nectar with TriHex Technology® and Soothe + Protect Recovery Balm to improve results and reduce recovery time.
Tip 5: Stick with What Works
If you've read all the way through this article, you'll notice Restorative Skin Complex is a favorite for every decade. Even women in their 50s and beyond can benefit from this amazing product. New Beauty published "The Best Moisturizers for Skin Over 50, According to Experts" and quoted New York dermatologist Elaine Kung as saying, "This moisturizer contains antioxidants like niacinamide and vitamin C, as well as polypeptides and moisturizing ingredients formulated in TriHex technology to help support new collagen and elastin formation."
Well+Good also published an article asking dermatologists what skincare products people in their 50s and beyond should use. In it, dermatologist Rachel Pritzker, MD, said, "Most derms probably recommend Alastin for older skin, as it has this unique reparative property to it."
Skin aging may be part of the natural process, but you can always improve upon poor habits and find new ways to feel better about your health and appearance. Adapt these tips and add ALASTIN's innovative products into your routine to create a healthy future for your skin.
References
[1] Ganceviciene, R., et al. (2012, Jul 1). "Skin Anti-Aging Strategies." Dermato-Endocrinology. https://www.ncbi.nlm.nih.gov/pmc/articles/PMC3583892/
[2] "Ways to Get Healthier Looking Skin by Boosting Collagen Levels." (2017, April 26). Medical News Today. https://www.medicalnewstoday.com/articles/317151
[3] Shagen, S.K., et al. (2012, Jul 1). "Discovering the Link Between Nutrition and Skin Aging." Dermato-Endocrinology. https://www.ncbi.nlm.nih.gov/pmc/articles/PMC3583891/
[4] Widgerow, A., et al. (2014, April 15). "Extracellular Matrix Modulation: Optimizing Skin Care and Rejuvenation Procedures." Journal of Drugs in Dermatology. https://pubmed.ncbi.nlm.nih.gov/27050707/
[5] "Photoaging: What You Need to Know About the Other Kind of Aging." (2019, Jan 10). Skin Cancer Foundation. https://www.skincancer.org/blog/photoaging-what-you-need-to-know/
[6] "5 Sneaky Ways You're Being Exposed to the Sun's UV Rays." (2017, May 10). Skin Cancer Foundation. https://www.skincancer.org/blog/sneaky-ways-youre-being-exposed-to-the-suns-uv-rays/
[7] "Wrinkles." (2019, Dec 18). Mayo Clinic. https://www.mayoclinic.org/diseases-conditions/wrinkles/symptoms-causes/syc-20354927
[8] Mukherjee, S., et al. (2006, Jan 4). "Retinoids in the Treatment of Skin Aging: An Overview of Clinical Efficacy and Safety." Clinical Interventions in Aging. https://pubmed.ncbi.nlm.nih.gov/18046911/
[9] "When Beauty Products can Cause Skin Sensitivity." (2018, Nov 16). Skin Cancer Foundation. https://www.skincancer.org/blog/when-beauty-products-cause-sun-sensitivity/
[10] Robinson, D.M. & Frulla, A.P. (2017, Jul 1). "Randomized, Split-Face/Décolleté Comparative Trial of Procedure Enhancement System for Fractional non-Ablative Laser Resurfacing Treatment." Journal of Drugs in Dermatology. https://pubmed.ncbi.nlm.nih.gov/28697226/
[11] Moradi, A. (2020, Feb 3). "A Randomized Double-Blind Trial Evaluating the Efficacy and Tolerability of Topical Body Treatment with TriHex Technology ® Combined with Abdomen Cryolipolysis or Radiofrequency Procedures." Journal of Drugs in Dermatology. https://pubmed.ncbi.nlm.nih.gov/32009299/
[12] Balzer, Deb. "Mayo Clinic Minute: Lifestyle changes to manage menopause." (2021, May 3). Mayo Clinic. https://newsnetwork.mayoclinic.org/discussion/mayo-clinic-minute-lifestyle-changes-to-manage-menopause-symptoms/
[13] Cabana, Eliza. "A solution for estrogen-deficient skin." (2019, June 16). DermatologyTimes. https://www.dermatologytimes.com/view/solution-estrogen-deficient-skin
[14] Reilly, D., et al. "Skin collagen through the life stages: important for skin health and beauty" (2021, Jan 8). Plastic and Aesthetics Research. https://parjournal.net/article/view/3863
[15] Varani J, Dame MK, Rittie L, et al. Decreased collagen production in chronologically aged skin: roles of age-dependent alteration in fibroblast function and defective mechanical stimulation. Am J Pathol 2006; 168(6): 1861-8.
[16] "Anatomy and physiology of ageing 11: the skin." (2017, Nov 27). Nursing Times. https://www.nursingtimes.net/roles/older-people-nurses-roles/anatomy-and-physiology-of-ageing-11-the-skin-27-11-2017/
[17] "All About Sunscreen." (2021, Jan). Skin Cancer Foundation. https://www.skincancer.org/skin-cancer-prevention/sun-protection/sunscreen/
[18] "How to Care For Your Skin in Your 60s and 70s." American Academy of Dermatology Association. https://www.aad.org/public/everyday-care/skin-care-basics/care/skin-care-in-your-60s-and-70s
[19] "Crepey Skin? A Surprising Cause—and 4 Expert Fixes." (2019, Oct 2) Cleveland Clinic. https://health.clevelandclinic.org/whats-causing-your-crepey-skin-and-how-can-you-fix-it/
[20] Nordqvist, Christian. "How to prevent and improve crepey skin." Medical News Today. https://www.medicalnewstoday.com/articles/320789
[21] "2020 National Plastic Surgery Statistics." American Society of Plastic Surgeons. https://www.plasticsurgery.org/documents/News/Statistics/2020/plastic-surgery-statistics-report-2020.pdf
22Farage, M., et al (2013, Feb 1). "Characteristics of the Aging Skin." Advances in Wound Care (New Rochelle). https://www.ncbi.nlm.nih.gov/pmc/articles/PMC3840548/#__ffn_sectitle
23 "Perimenopause: Rocky road to menopause." (2020, April 14). Harvard Health Publishing. https://www.health.harvard.edu/womens-health/perimenopause-rocky-road-to-menopause
24 "The Truth About Wrinkles: 5 Common Wrinkle Myths Debunked." (2019, Dec 1). Penn Medicine. https://www.pennmedicine.org/updates/blogs/health-and-wellness/2019/december/the-truth-about-wrinkles
25 "All About Sunscreen" (2021, Jan). Skin Cancer Foundation. https://www.skincancer.org/skin-cancer-prevention/sun-protection/sunscreen/
26"How to Prevent Premature Skin Aging." (2021, Feb 25). American Academy of Dermatology. https://www.globenewswire.com/en/news-release/2021/02/25/2182848/0/en/How-to-Prevent-Premature-Skin-Aging-American-Academy-of-Dermatology.html
27 "How to Slow Down Your Skin's Aging. (2021, April 7). Scripps. https://www.scripps.org/news_items/4532-how-to-slow-down-your-skin-s-aging
28"Wrinkles." (2019, Dec 18). Mayo Clinic. https://www.mayoclinic.org/diseases-conditions/wrinkles/symptoms-causes/syc-20354927
29 Widgerow, A, et al. (2020, April). "Developing a Topical Adjunct to Injectable Procedures." Journal of Drugs in Dermatology. https://jddonline.com/articles/dermatology/S1545961620P0398X
30 "Do retinoids really reduce wrinkles?" (2019, Oct 22). Harvard Health Publishing. https://www.health.harvard.edu/staying-healthy/do-retinoids-really-reduce-wrinkles