ALASTIN Skincare® Unveils Breakthrough Product: TransFORM Body Treatment With Trihex Technology® At American Society For Dermatologic Surgery (ASDS) Meeting
---
Unique Peptide and Liposome Delivery Technology Help Accelerate Body Sculpting Results, Enhance Skin Tightening Treatment Outcomes & Improve Skin Crepiness.
CARLSBAD, CA — October 9, 2018 — ALASTIN Skincare®, Inc. - a specialty aesthetics company dedicated to developing and marketing innovative, clinically-tested physician-dispensed skin care products with patented TriHex Technology®, announces the launch of their newest product--TransFORM Body Treatment with TriHex Technology® --at the American Society for Dermatologic Surgery (ASDS) Annual Meeting in Phoenix, held October 11-14. The first-of-its-kind topical body treatment works in tandem with non-surgical body fat reduction and energy-based body skin tightening procedures to complement and optimize results. It also provides benefits as a stand-alone skin tightening treatment to address lax, saggy skin and the crepey texture that often accompanies aging.
ALASTIN TransFORM Body Treatment with TriHex Technology is a revolutionary product that answers the previously unmet need for a topical treatment that works with the increasingly popular non-invasive fat reduction and skin tightening procedures. When this take-home product is applied post-treatment, it helps accelerate outcomes after hot or cold body fat reduction procedures by supporting the body's natural repair processes. It also helps to support the production of elastin and collagen to enhance the results of body skin tightening procedures and can be used independently of treatments to improve body skin texture, tone and crepiness.
"Body fat reduction procedures leave residual fat fragments or fat debris that are created after breaking down fatty tissue," says Dr. Alan Widgerow, Chief Medical Officer, ALASTIN. "These large fragments may linger and delay visible results. The body's natural clean-up process to eliminate these damaged fat cells is called autophagy. TransFORM supports this natural process to enhance the overall treatment and patient experience."
The advanced technology is three-fold. A highly unique blend of peptides include Hexapeptide-11 encapsulated in a proprietary LipoDRONE™ Delivery System, which helps shuttle the peptide through the skin and down to the dermal fat around the hair follicle, to naturally signal the process of fat debris clearance post-treatment. At the same time, Alastin's patented TriHex Technology works to support the increase of elastin and collagen production to address skin laxity, enhancing tone and tightening. Skin crepiness and texture are further improved by carefully selected ingredients that provide added hydration and help boost the body's natural hyaluronic acid production. Initial split-body evaluations utilizing the TransFORM product in conjunction with energy-based devices for non-surgical fat reduction have demonstrated enhanced results in subjects on the side treated with TransFORM Body Treatment with TriHex Technology. Just as impressive, daily application of TransFORM with no energy device treatment yielded an improvement in skin roughness and crepiness by an average of 11% at week 4 and 38% by week 8.
"While fat reduction body sculpting has come a long way, and the results we are seeing with non-invasive fat reduction are impressive, there is still room to improve. Optimal results post-procedure can take as long as 3 months or more, and some patients are left with residual skin laxity or crepiness. Having a topical body product that helps accelerate results as well as improving skin laxity and crepiness would be a welcome addition to the treatment protocol" stated Dr. Suzanne Kilmer, Dermatologist, Founder of the Laser and Skin Surgery Center of Northern California, and Clinical Professor at the University of California, Davis. "Our early body sculpting case study findings utilizing energy-based fat reduction devices with the addition of TransFORM Body Treatment show great promise. Additional trials are underway to further support benefits of TransFORM Body Treatment."
TransFORM Body Treatment with TriHex Technology retails for $195 and can be purchased from ALASTIN Skincare® aesthetic physicians' offices. Visit www.alastin.com to find a physician retailer near you.
Complementary Products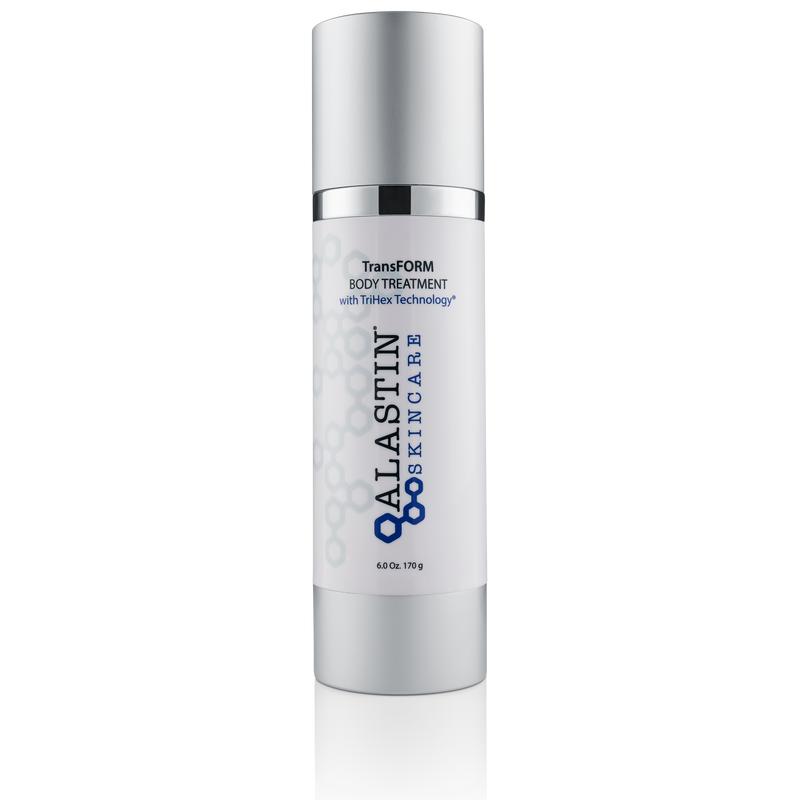 View Product
---
Join the A-List
Stay in the glow with the latest beauty and skincare trends, products, and procedures.