Marina ManLand: where a man feels good about looking great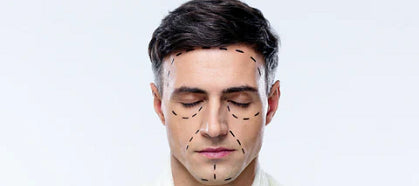 Men are not exempt from wanting to put their best face (and body) forward. Just like women, men often want to change the things they don't like when they look in the mirror.
In fact, this is a growing trend across the U.S.; over the past decade, an exponential surge in male surgeries has continued to gain speed and now more men are seeking plastic surgery and aesthetic procedures than ever before.
Statistics Show an Increased Popularity in Men's Aesthetic Procedures & Cosmetic Surgery
Statistics show that cosmetic surgeries and aesthetic procedures for men are on the rise. According to the American Society of Plastic Surgeons (ASAPS), more than 1.3 million cosmetic procedures were performed on men alone in 2017.
Perhaps not so surprising when considering the American diet and lifestyle, is that of that 1.3 million fat-reduction procedures including CoolSculpting®, Liposuction, and Abdominoplasty ("tummy tucks") have seen the most significant boost over the past five years, and more specifically, male breast reductions have also increased by 30%.
Why More Men Are Seeking That Perfect Face & Body
Various reasons could be fueling the rise in popularity - male celebrities opening up about their cosmetic surgeries, the American tendency to seek the 'fountain-of-youth', or perhaps the most likely culprit, is the social media trend of selfies and that 'comparison game' that happens when we're flooded with filtered and photoshopped pictures of our friends and celebrities.
Whatever the reason, men are lining up at doctors offices all over the country to fight the ongoing battle of ageism and attempting to put their best face and body forward.

To dive in a little deeper into this topic, we met with Plastic Surgeon Dr. Grant Stevens of Marina Del Rey Plastic Surgery, a highly-revered, and critically-acclaimed surgeon, specializing in plastic surgery and cosmetic procedures for both men and women.
Dr. Stevens' Take on Mens Aesthetic Procedures
Before we dive into the Q & A with Dr. Stevens, we want to highlight his accomplished history in the field of medical aesthetics. Dr. Stevens was recently named one of the Best Plastic Surgeons in America in Castle Connoly's Top Doctors Guide; as a Clinical Professor of Surgery at the University of Southern California, he has been practicing Plastic Surgery for 32 years in Marina Del Rey, CA, and was also recently named President of ASAPS (American Society for Aesthetic Plastic Surgery).
Dr. Grant Stevens has dedicated his career to the pursuit of aesthetic medical and nonsurgical services and provides his patients and the medical community with useful surgical products for beauty, aesthetics, and wellness.
A Look at How Dr. Stevens Became the Go-To Plastic Surgeon in Los Angeles for Men
In 2009, CoolSculpting® became a trending aesthetic procedure in many practices across the country. No stranger to pioneering the unknown, Dr. Stevens began working with the new technology and quickly noticed a growing interest (and success) with this new form of fat reduction. 
By 2013, Dr. Stevens saw dramatic growth in male interest for these procedures, from 10% to 41% to be specific. Acknowledging the demand, and the unique needs of men, Dr. Stevens wisely decided to create a more customized experience for his male patients in his practice.
In the early days, while his patients were undergoing their CoolSculpting® procedures, Dr. Stevens would sit down with them to ask them questions about aesthetics, his office, their goals, what they liked or didn't like about their appearance, their hesitations, and concerns about surgery, and the like. With this captive audience, Dr. Stevens received a plethora of information which helped him create the ultimate destination for men and soon, Marina ManLand was born.
Marina ManLand, the Ultimate Destination for Men's Aesthetic Procedures & Plastic Surgery
With the rise in popularity, many plastic surgeons have begun creating unique male-focused offerings in their practices and as well as expert services and care from surgeons and nurses that are specially trained in working with men.
Taking it one step further, Dr. Stevens developed Marina ManLand to go above and beyond! Specific to his patients' requests and the insights he gleaned during his intimate time with them, he left no detail overlooked; Marina ManLand offers:
Dimmed lighting in waiting and procedure rooms
Waiting rooms featuring individual leather chairs
The Marina ManLand logo was designed in the same font as Disneyland to portray "the happiest place on earth," but for men
A separate entrance for ultimate privacy
The interior décor was inspired by elements from some of Dr. Stevens' favorite sports bars, men's clubs, and cigar lounges from the around the country
The final touch was the scent.
One of Dr. Stevens' degrees was in psychology, and he shared with us that smell is the strongest sensation for the body. With this, he contributed male-approving, but not female-disapproving scents, throughout the Marian ManLand wing of his Marina Del Rey office.
Before & After Results from Marina ManLand Plastic Surgery Services
The work done at Marina ManLand speaks for itself. Over the years, Dr. Stevens has seen hundreds of male patients enjoy transformative and life-changing results.
CoolSculpting on Flanks + Abdomen
CoolSculpting on Abdomen
Eyelid Surgery + Medical Grade Facial
Rhinoplasty
Images provided by Marina Plastic Surgery.
The most popular service Dr. Stevens provides for his male patients to this day is still the CoolSculpting® fat reduction procedure. It's for this reason he was quick to add the latest technology in body skincare from ALASTIN Skincare, the TransFORM Body Treatment with TriHex Technology® to his practice, as it is a complementary formulation that helps to accelerate and optimize post-procedure results.
Al Roker Visits Hollywood's Hottest Plastic Surgery Practice for Men
One of the most recent, and most noteworthy, patients at Marina ManLand was none other than The Today Show's Al Roker who visited Dr. Stevens' haven for men to dive deeper into the latest trends in men's aesthetics and to learn which procedures are reigning king. Watch the video below: